Another cloudy day welcomed all the crews that arrived to Jönköping for EUC Rowing competition.
It was raining from time to time but at least there was no wind in the morning hours so crews could get in a decent training session. Most of the crews were really happy and satisfied with organization, causing a relaxed and comfortable atmosphere.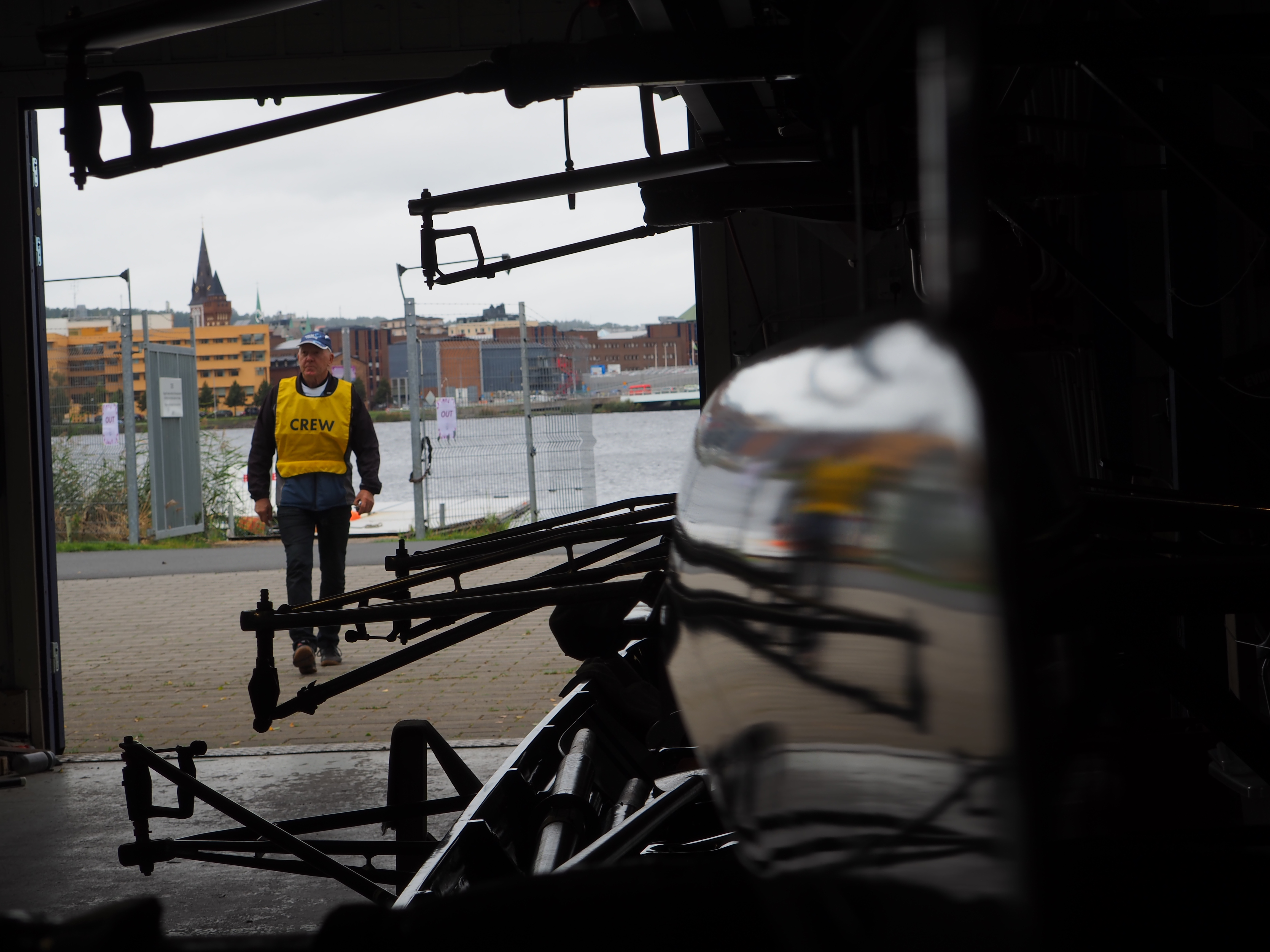 The coach of Delft University of Technology, Cas Sunderman, is expecting more excitement in the days to come, and is hoping for more help about technical staff.
"Oh, well, we have arrived a bit late yesterday, so until now, everything was fine. Getting to the hotel was pretty easy, everything ran pretty smooth, from finding locations to ranting the boats. We got to the water this morning, it's not busy yet, but tomorrow, I think it will be a bit more hectic. All the crews have to go, run at the same time and race and it is going to be a bit more tension. I think, especially here, it needs some more build up, so hopefully more volunteers will be present here tomorrow".
Diederik Adema, one of Delft University rowers, couldn't hide his joy for competing with other, unfamiliar crews.
"Well, we don't know actually. We only know Universities of our rivals, and we don't know how we are going to compete against them. That is exciting, and everybody are looking for the A finals that are booked for Saturday. There is a 50% chance for everything, so can win the lottery or you don't". 
University of Coimbra had minor problems with their equipment, but staff at the Rowing Club was really helpful according to Gonçalo Delgado.
"It's our first time at the University Europeans, and until now, I think it's great. It's a very good thing for us to be here competing. The city is great, except the weather. We came from Portugal where it's 39 degrees C° so here it is a little colder. Despite that, I like the city, it's calm and very similar with Coimbra where we are from".
Christopher Gadzinski from the same University is hoping for a better luck in upcoming days.
"We felt a lot more confident before we came here, because, unfortunately, we're having a few technical problems, so we are going to see if we can manage to fix them. I'm not sure how it is going to be, but we hope for the best. Last year, the competition was in Coimbra and I made it to the B final".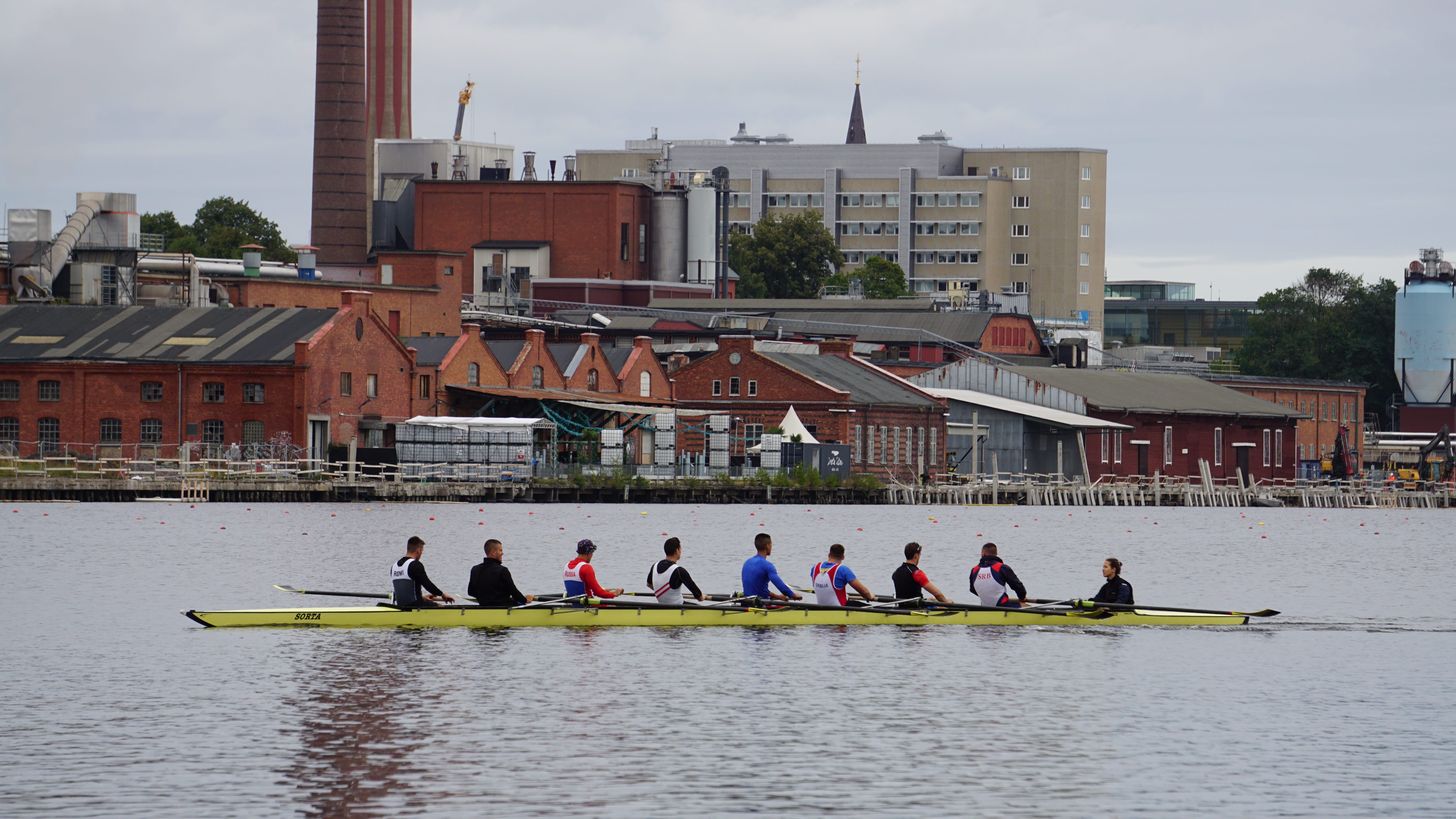 Delegation from Belgrade didn't have any problems since arriving at Jonkoping, so they have praised organization's hard work.
"Honestly, it is really great. We have finished quickly all necessary protocols and went out on the water. Although, we organized part of travel by ourselves, we can say that orgnization is on a really high level", Aleksa Petrović said.
Marko Jovanović was also satisfied with the technical support.
"We didn't have any major technical problems, apart from changing oars, but guys from the Rowing club finished that in two shakes of the lamb tail. They have actually given us a better boat than the one we got in Serbia, so everything is great".
From their point of view, rivals seem to be really good.
"They are all very kind, and really helpful. Whatever is the problem, they fix it very quick. We're very satisfied with the whole organization. We are going to try our best, to reach the maximum of our abilities and hope for the best", Jadranka Popović added.
Two competitors will surely make this tournament look more interesting and laughable. Ana Joao Ferreira and Rita Luis Ferreira are twin sisters from University of Beira Interior who got the same clothes, same piercings and the same big, catchy smile. Considering bad luck that is following them from the start, these girls somehow remain positive and insisted to be interviewed together.
"In general, I like it. The organization is really helpful, and they are trying to do everything that is possible to help us. Unfortunately, we lost our bags in Amsterdam, and that means that we can't practice. We don't have any of our clothes, so we can't do anything. So, for now, we're trying to find the boat, and everybody are helping us. The city is very beautiful, the lake seems exceptional. Hotel and food are perfect, but weather is not. We didn't expect the sun, but we were kind of hoping that is going to be a little more different from our place in Portugal that is also windy and cloudy".
Their expectations are not very high, and all they are looking for is some fun and recreation.
"We're just expecting boats! We just came here to have fun and gain some experience. Our University is from the middle of Portugal and there is no lakes, rivers or canals, so we can't practice there. We started with rowing in elementary school so we have to travel in order to have trainings, and because of the obligations at the University, we practice only in August".
Lea Duret and Emma Lunatti from University of Grenoble-Alpes didn't know what to expect from their rivals but are hoping for the medal at the end.
"Honestly, we don't know our opponents, and we will have to wait for the final list to find out. Our goal is to get a medal, because we have faith in each other, but competition will be on a high level for sure, because rowing is well known University sport in a lot of European countries".